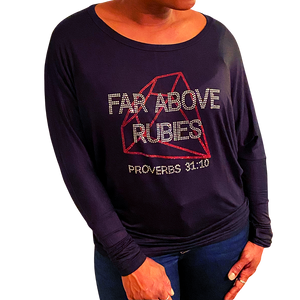 Details
3.7 Ounce Flowy Off-Shoulder Long Sleeve T-Shirt. Side-seamed. Relaxed, drapes fit. Rib cuffs and waistband. Seam up center back. Wide neckline.
65% poly, 35% viscose, 30 single 3.7
Runs true to size. For a true off the shoulder look go up one size. 
 
* Model is wearing a Large. 
* You may customize this blouse with any bling design in this collection. Add the design title in the note section.